Motorcycle Security Devices - U lock, Disc lock, Chain lock, Pad Lock, Bike Lock
There are different motorcycle security devices, including motorcycle alarm, motorcycle cable lock, motorcycle disc lock, chain lock, U lock, pad lock, etc. To secure your motorcycle, finding a bike lock maker with years experience and insists using high quality material to enhance the strength of locks would be important.
Bike Lock Type: Motorcycle Alarm
Consider fitting a paging alarm, these are getting cheaper all the time.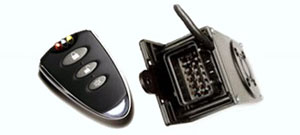 A motorcycle alarm system
Talking alarms are better than sirens; people tend to listen more when it's a human voice. Lots of motorcycle alarm products are thoroughly ruggedized and waterproof, and some motorcycle alarm systems are designed exclusively for installation on Cruisers, Harley Davidson, and custom motorcycles.
Bike Lock Type: Cable Lock
A cable lock that you can loop around a lamppost of similar is the best bet. Cable lock is great for locking the frame of your motorcycle to the front wheel, or for locking your scooter to a fixed object. Most of cable Lock's locking mechanism is stainless steel and brass, it gives you protection from rust, and is encased in thick hardened plastic.
Bike Lock Type: Disc Lock
Disc lock is a great way to secure your motorcycle. They are portable (in the case of disc locks, they will fit in your pocket), relatively difficult to break (compared to a garden-variety chain), and easy-to-use. The only drawback is the size of disc locks might make you forget about them, and to avoid that you could Lock your helmet to it or clip the ignition key to the lock key after locking. Or you could just simply put a sticker on it to remind yourself.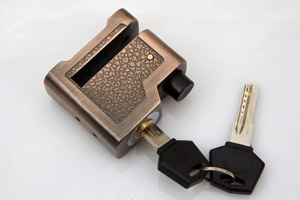 The motorcycle disc lock
Bike Lock Type: Security Chain Lock
Security chain lock can be heavy to lift and it could discourage the theft to steal.
Chain lock is strong cut resistance and the protective coating helps prevent scratching. The special steel alloy welded links are case hardened to resist sawing attack and deep through hardened to resist bolt cropping. In addition, it represents excellent value for money.

Bike Lock Type: U Lock
U Locks are made of steel with the U shape. They are used to secure the motorcycle. U Lock core design provides the highest degree of protection against picking; some keys are equipped with mini flash lights. Motorcycle U locks use durable PVC sleeve covers chrome steel shackle to prevent marring and scratching, their hardened solid steel lock prevents prying, sawing and hammer impacts. U-locks are ideal for bicycles, motorcycles, spare tires, trailers, etc.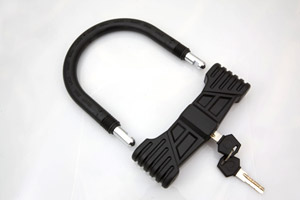 A U-Lock from Giant Seal